The Background to the cards
For many years I have been going into businesses using this approach to an organisation I find that end users can quickly understand these principals. I call it my 6 principals.
Here are 4 slides that explain how these principals came about and ultimately how the cards were derived.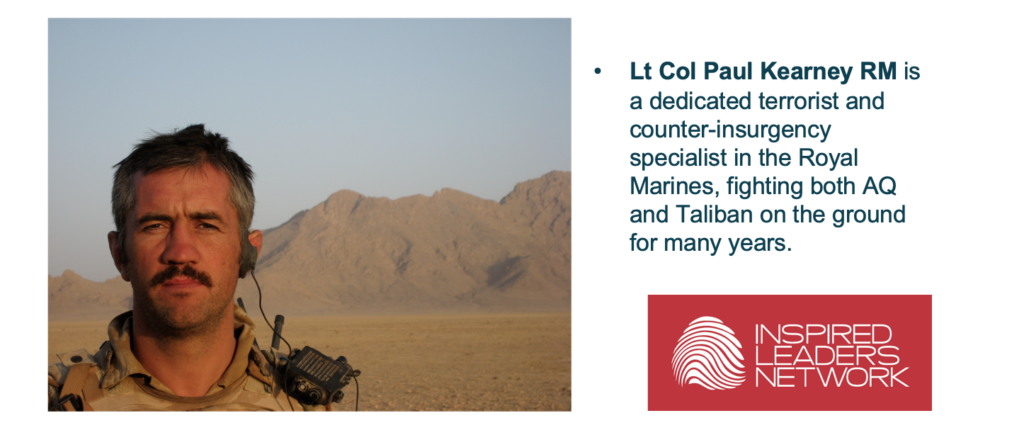 I met a really great guy named Paul Kearney he was working for the Inspired Leaders Network at the time. He had just left the military and was about to work in civvy street. We had dinner together and  in our discussions I had explained what I do and how I look at a company and he explained how the military do a similar thing when looking at the theatre of operations.
Paul introduced me to the NATO 6 functions in war-fighting. During the conversation it occurred to me that this was a really useful framework for looking at a business. After all we have been fighting wars far longer than we have been managing organisations. The Original 6 functions were as follows.
The processes that I looked at within an organisation aligned very closely with these 6 Functions (with a little poetic licence) so I adapted the 6 functions towards business language and how civilian organisations work.
Protection in military aligned better to looking after resources within the organisation such as equipment, people and products.
Logistics, I added experience to logistics to make experience and logistics to explain the importance of defining what you promise and how you deliver those promises.
Firepower was harder to align in business but I had been using efficiency as a metric in business and so I decided that – it could cover "using the right tool at the appropriate time to cause the desired impact" as well as the overall competitiveness of the business aligned . The other functions were obvious alignments.
To explain how the 6 principals worked I used the structure below which has worked extremely well for me when reviewing a business and  its organisation. To read more about this go to my website: www.pr-int.net.
I have used this structure for over 10 years as a business consultant/ analyst to help business owners structure their business and build a strategy for growth.  The structure works extremely well with regard strategy and prioritisation and how to build the business components in parallel.
More recently I decided to expand my knowledge with project management (PRINCE2) due to a customer request and then I decided to qualify as a Business Analyst. Whilst studying these examinations I saw a great similarity between what I had been doing and the Business Analysis process.
Side Note: My twin brother,William, had been using archetype cards to help brands to identify with a style or personality and I too had been using these cards with business owners to define the personality and tone of voice of an organisation (see Nockwood Cards). I had noticed that using cards interactively was a great way of opening up a client and exploring areas that perhaps they were reluctant to discuss. 
It was then that I thought it would be great to create a deck of cards specifically for  Business Analysis Elicitation (and other uses).  I used the six principals as the 6 suits (four was just not enough).  and then broke down the areas of Business Analysis into these 6 principals.
That is how these cards were born – They have been through a number of iterations and alterations as I use them and develop them and I am sure that the modification will continue as I get feedback and other uses.
Update: Check out the MAD about CRM version for application in CRM environments and better use of the reverse of the cards.
The shop is now open but although some stocks are available
please allow 7-10 days for shipping.
For rush orders please contact through the contact page.