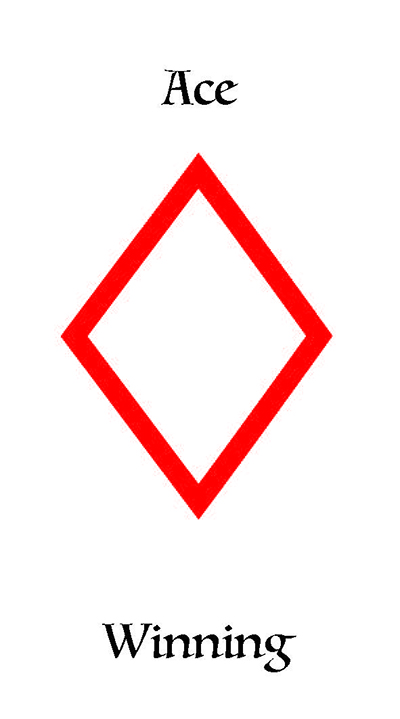 Ace  – Winning: This suit represents the organisations ability to compete. I am not particularly keen on the phrase "winning" as it seems to associate with "at any cost" perhaps "competitive advantage" is a better phrase.
The Diamond suit represents the fundamental influence of "survival of the fittest". Everyone competes at one level, we compete for jobs, we compete for houses, we compete for lovers and partners, we compete for resources and wealth and in business it is no different. By employing methodologies, systems (IT and others)  , process analysis and best practice techniques the organisation will be able to be confident that it is sufficiently agile and successful in an ever increasingly competitive environment. (and its going to get worse !)
Darwin said
"It is not the strongest of the species that survives, nor the most intelligent; it is the one most adaptable to change."
How the business maintains a competitive advantage how it adapts and maintains momentum is what the diamond suit represents. Overall organisational effectiveness is created by Drive, ambition, best practice and respect from others.
This card is still Winning (competitive advantage)  in the V3.0 versions.
On the reverse of the card are:
Efficiency
Effectiveness
Waste
Good vs perfection (MVP)
Empowerment
Culture and attitude (yes I know i have used this before)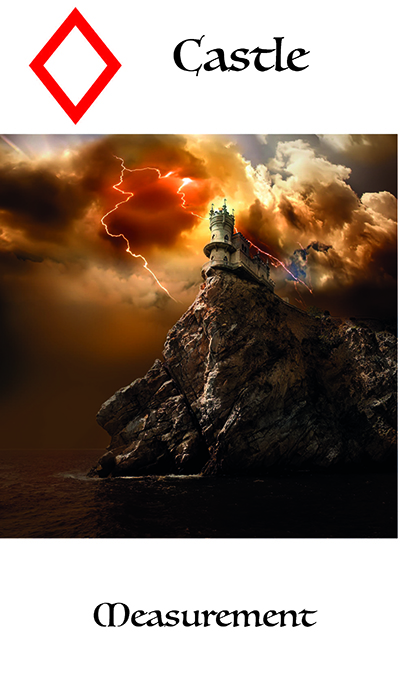 The Castle: Measurement
Any efficiency drive, approach to understanding starts with measurement and standards. Only by measuring, monitoring and benchmarking will the business be able to improve its processes.
Everything should be measured 
Without measurement you have no reference point for improvement.  Measurement should not only be operational or financial.  Happiness, confidence fear and emotions are also good metrics for things like organisational health (Castle of Hearts).  Quantitative and qualitative methods should be employed as part of the organisations Measurability Process.
This card is still Measurement in the  V3.0 versions.
On the reverse of the card are:
Waiting / cycle time / cost
Resource productivity (GM/£ labour)
Errors/ rework (as a measure of reliability)
Decision time
Visibility / compliance
Purpose and documentation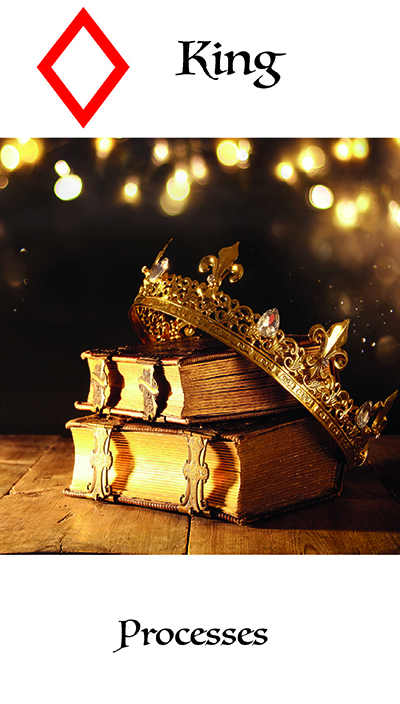 The King: Processes
The King: Processes and procedures are what the business needs to focus on in order to apply change to the organisation. All BA's know this.
"Process analysis is the action of conducting a review and gaining an understanding of business processes. It involves reviewing the components of a process, including inputs, outputs, procedures, controls, actors, applications, data, technologies and their interactions to produce results.
The analysis includes the evaluation of time, cost, capacity and quality of processes, being able to use static or dynamic visual models of the process, data collection from the beginning to the end of activities, analysis of value chain, end-to-end modelling and functional decomposition." Source: ABPMP BPM
 Business Process Analysis is therefore a fundamental aspect of the Business Analysis's role that this card represents.
This card is still Processes in the  V3.0 versions.
On the reverse of the card are:
Research and development processes
Production and support processes
Sales and Marketing processes
Human Resource processes
Leadership processes
Finance processes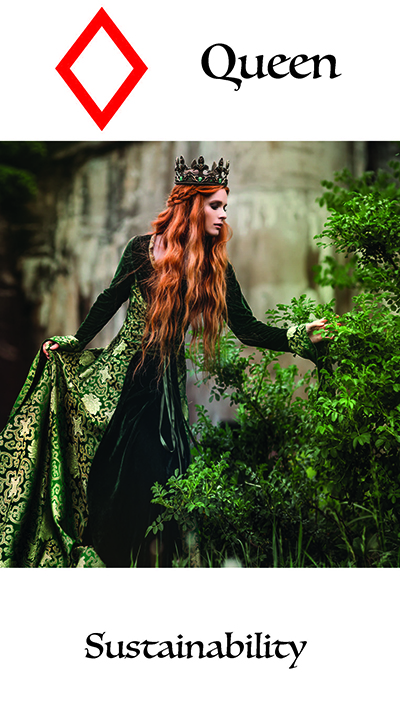 The Queen: Sustainability
There is no point in having a sprint and then standing around doing nothing – The hare and the tortoise story proved that well. All business need to maintain momentum, I have lost count of the number of organisations that I have been into as a consultant that during my visit a problem or issue was described as fundamental to business success. We then spend one or two weeks investigating the problem and developing the solution, only to return a quarter year later to find that nothing has been actioned from the original findings and the organisation has moved on to another "more critical" problem. This fire fighting mentality is common in most organisations.
Many businesses apply the principal "Best practice it is only there for the auditor" whether intentionally or not. If the organisation believes that a project or initiative is worthy of investment then it is critical that the benefits and the post project initiatives are followed through. This card has a close relationship with the Joker of Diamonds (Motivation)
Note: I have intentionally used sustainability because the card can also be used to represent "Doing Good" ie  the ethical or environmental considerations – Use whichever meaning works for you !
This card is still Sustainability in the V3.0 versions.
On the reverse of the card are:
Education
Nature of resistance (break bad habits)
Communication
Involvement
Support
Celebrate success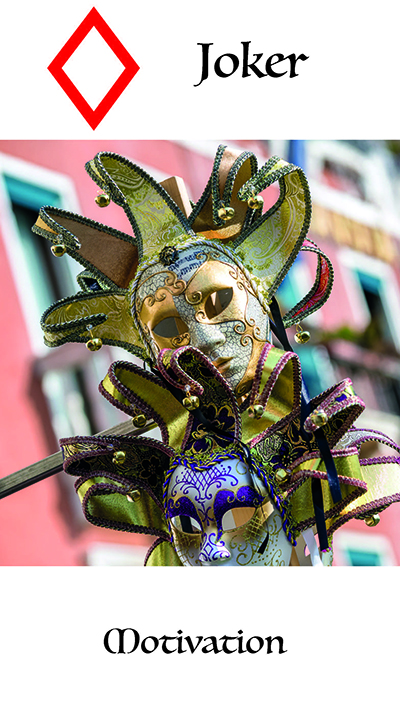 The Joker: Motivation
Motivation is incitement or inducement to act or move. It is the process of inducing individuals  of an organisation to act in a particular way to achieve business goals. When considering motivation it is important to look at  Motive, Motivation, and Motivator.
Motive refers to the inner state of mind that initiates and controls behaviour towards business goals. They directly correspond to the needs and constraints of individuals. (Knight of Triangles).
Motivation is the process of stimulating action by understanding the needs of the employee (or customer) and using their motives for the benefit of the organisation.
Motivator is the technique or reward used for motivation such as pay bonus, peer recognition, promotion etc.
The role of motivation cannot be understated in an organisation. It is a simple process but it requires an understanding of human mind and behaviour as well as empathy as a practitioner.
Motivation is not restricted to employees it is applicable to all Stakeholders.
This card is still Motivation in the V3.0 versions.
On the reverse of the card are:
Personal motivation
External motivation
Procrastination
Concious and unconcious motivation
Goals and rewards
Sappers and zappers (remove negative people)
Sappers and Zappers.This is a phrase used by Allan Leighton and I adopted it. He said there are two typed of individual "Sappers" and "Zappers". Sappers aubsorb energy from a group they are generally negative and obstinate. Zappers are the opposite, they light up a group and ZAP everyone with energy. The energy may be misguided sometimes (but you can deal with that). He said SACK the sappers promote the Zappers.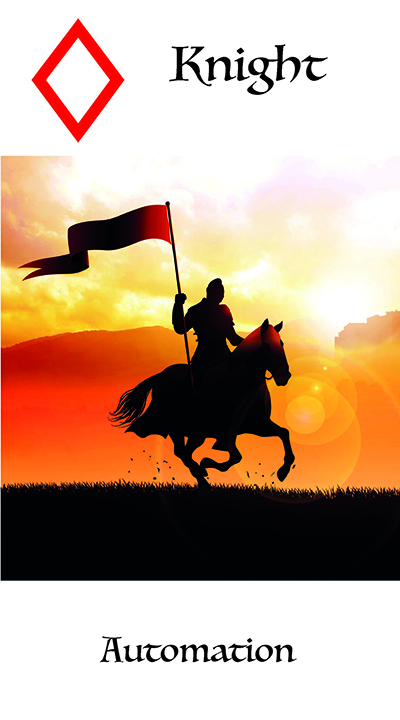 The Knight: Automation
In todays competitive landscape automation is key to reducing cost, improving services and improving reliability.
The first rule of any technology used in a business is that automation applied to an efficient operation will magnify the efficiency.
The second is that automation applied to an inefficient operation will magnify the inefficiency."
– Bill Gates
Automation isn't just about robotics it includes the use of IT systems such as MIS, ERP, CRM to capture and improve information and processes. Automation is the used mostly on  repeatable, day-to-day tasks that requires consistency, repeatability and error free processing. The use of IT systems to automate these repetitive functions free up one of your most precious resources (staff)  to do something more valuable.
Automation can do the following:
Save time,  Reduce costs, Increase visibility, Improve customer services and increase control of the business.
Considerations:
Don't just automate for the sake of it. Understand when and why – when automation is appropriate and why you are doing it. Automation should be customer centric, i.e. you are doing it to make your customers life easier rather than your own. We have all been confronted with an automated telephone answering system that obviously makes the process easier for the organisation but is onerous for the customer.
This card is still automation in the V3.0 versions.
On the reverse of the card are:
Process re-engineering
Technology implementation
Document logic and business rules
Business case
Waste (movement, inventory, time, defects, effort, talent)
Systems (such as API, CRM, AI, Analytics, Human Machine Interfaces)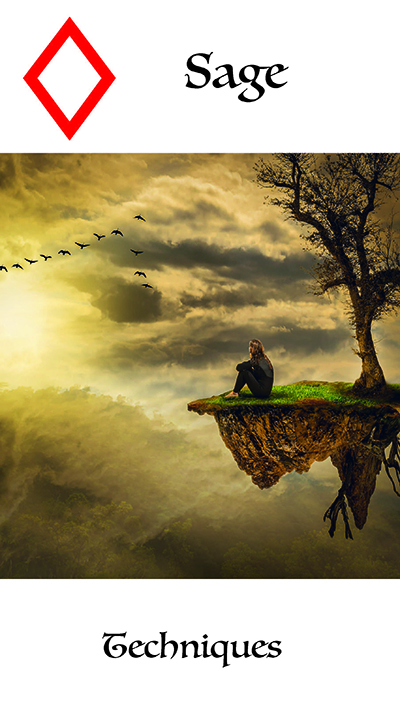 The Sage: Techniques
Using techniques to improve, the organisation efficiency, be that: Lean manufacturing, Agile, Waterfall, JIDOKA, Kaisen or any other industry best practice. There are many areas that techniques are used you will be familiar with the Business analysis techniques such as: SWOT Analysis, MOST Analysis, Business Process Modelling, Use Case Modelling, Brainstorming, PESTLE Analysis etc.
I have tries to categorise some of the areas where there are specific techniques used: (this is not an exhaustive list it is merely to demonstrate the areas that the card can be used to consider.)
Organisational techniques  – Structural Analysis, team building, managerial grid.
Management techniques (or styles) – authoritarian, participative and delegative.
Process techniques/ quality techniques – 5S, Lean, JIDOKA
Performance techniques –  Benchmarking, CICS, USE Method.
Analysis techniques – (see above)
Approach techniques (Agile/ waterfall etc)
Communication techniques – Body language analysis, questioning/questionnaires, framing, broadcast.
The techniques card is often used to focus the reader on the appropriate technique for the situation that is under consideration. This card can be used in conjunction with the Sage of Clubs (Tactics).
This card is still Techniques in the V3.0 versions.
On the reverse of the card are:
Learning
Expert advice
Consensus and Collaboration
Practice
Focussed attention
Tacit and explicit
On the reverse of the original cards:
On the reverse of the diamond cards are the 6 stages of the business change lifecycle:
Alignment
Definition
Design
Implementation
Realisation
Business Case
I find this useful in workshops when looking at all the stages of business change.
The shop is now open but although some stocks are available
please allow 7-10 days for shipping.
For rush orders please contact through the contact page.